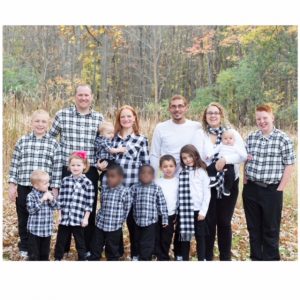 Alicia and Josh Dougherty are from Pittsford, NY. Josh is a special education teacher with the Pittsford Central School District. Josh also coaches football and Track and Field in Pittsford.
Alicia is a former teacher and nanny who now stays home to raise the kids. We have 7 kids with special needs, which equals a lot of appointments, therapies and activities throughout the week to manage. 
After 9 years of infertility and pregnancy losses we adopted then 5-year-old Alex from the foster care system. Two years later we adopted then 6-year-old James from the foster care system. Two years ago we got foster placement of our now 3 year old twins, who will be heading into adoption soon. During all of this we were blessed with 3 miracle pregnancies. Included in the mix of our kids we consider our adopted son's biological sister, Bryanne, to be an honorary Dougherty, and her 3 children to be like our grandchildren. 
So in the past 7 years we've gone from zero children to:
Bryanne-25
Alex-11
James-10
Zoey-5
Dash-3
Twins-3
Bodhi-1
Plus our grandkids:
Ellianna-8
Berto-4
Maverick-4 months
(Foster twins blurred per media rules)
Family YouTube documentary: 
For more information on adopting from foster care contact Children Awaiting Parents 585-232-5110. childrenawaitingparents.org 
Photography by Melissa Siena of A Snap In Time Photography.
Videography by Todd Elliott Media at Toddemedia.com